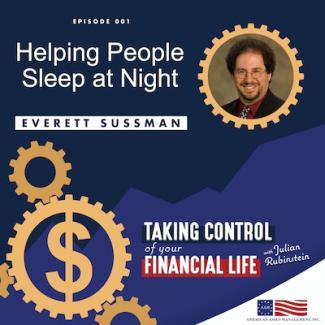 Ep 001: Helping People Sleep at Night
Since 1993, attorney Sussman has operated a solo-practitioner law firm, with a practice focusing on estate planning and probate administration. He brings experience, expertise, sensitivity, and a bit of levity to what can often otherwise be a stressful, trying process. His clients have ranged from centenarians to the not-yet-born; from simple situations to the complex. He has extensive experience working with special needs families.
Listen to this information Taking Control of Your Financial Life episode with Everett Sussman about why NOW is the time
Here is what to expect on this week's show:
Everett discusses the importance of listening to what your clients say and understanding what they don't say.
Knowing what to 'worry' about when it comes to estate planning.
How house calls bring more opportunities and better understanding.
Connect with Everett:
LinkedIn : https://www.linkedin.com/in/egsesq/
Facebook: https://www.facebook.com/LawOfficesOfEGSussman
Connect with Julian:
Facebook: https://www.facebook.com/americanassetmgmt/
LinkedIn: https://www.linkedin.com/in/julian-rubinstein-125b6312