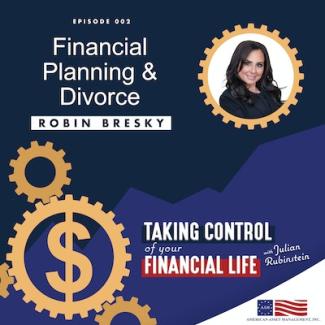 Ep 002: Financial Planning and Divorce
LLP.  She focuses her practice on appellate law and litigation support for civil, commercial, personal injury, family law and criminal matters. Bresky is admitted to practice in Florida and into the U.S. Court of Appeals for the 11th Circuit, the U.S. District Court, Southern District of Florida, and the U.S. Supreme Court.
Bresky is past president of the National Conference of Women's Bar Associations, a fellow of the American Bar Association, and since 2001, a member of the Appellate Judges Conference, composed of state and federal appellate judges, appellate staff attorneys and appellate lawyers dedicated to an efficient and independent judiciary.
Listen to this informative Taking Control of Your Financial Life episode with Robin Bresky about proper financial planning throughout each stage of a divorce.
Here is what to expect on this week's show:
Understanding the collaborative process for a dissolution of marriage and when it's an option
The issues when emotions are driving your case
Why you should be working with a financial planner throughout each step of a divorce
Connect with Robin:
Facebook: https://www.facebook.com/SchwartzSladkusReichGreenbergAtlas?ref=br_rs
LinkedIn: https://www.linkedin.com/company/9479383/admin/
Twitter: https://twitter.com/ssrgalaw
Instagram: https://www.instagram.com/ssrga/
Connect with Julian:
Facebook: https://www.facebook.com/americanassetmgmt/
LinkedIn: https://www.linkedin.com/in/julian-rubinstein-125b6312