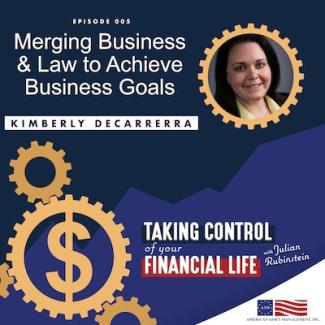 Ep 005: Merging Business and Law to Achieve Business Goals
Kimberly DeCarrera brings together the disciplines of law and accounting to bring business solutions to clients. Kimberly is an accomplished lawyer and accountant with more than 15 years experience representing companies of all sizes across multiple industries, including financial services, hospitality, retail, manufacturing, transportation, professional services, and health care. She recently served as in-house counsel and CFO for a transportation brokerage company and is now serving clients as outside general counsel and business coach. She has a Masters in Tax and a law degree from Georgia State University and a bachelors of science in business management from Georgia Tech.
Listen to this informative Taking Control of Your Financial Life episode with Kimberly DeCarrerra about merging business and law for the benefit of her clients.
Here is what to expect on this week's show:
How Kimberly effectively combines her business experience and law to achieve her client's business goals.
Kimberly expresses the importance of knowing and understanding your clients' business, and how it can help you minimize risk and maximize profitability.
Done is better than perfect.
Connect with Kimberly:
Website: https://decarreralaw.com
https://law.builders/@decarrera 
LinkedIn: https://linkedin.com/in/kdecarrera
Twitter: https://twitter.com/decarrera
Connect with Julian:
Facebook: https://www.facebook.com/americanassetmgmt/
LinkedIn: https://www.linkedin.com/in/julian-rubinstein-125b6312