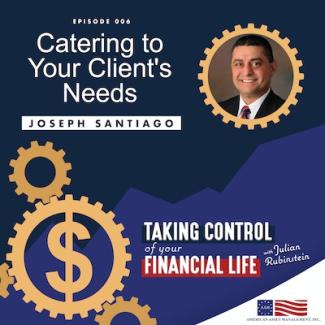 Ep 006: Catering to Your Clients
Joseph, the Director of Advanced Professional Services, has over 20 years of experience specializing in Professional Liability Insurance, Medical Malpractice Insurance, Lawyers Malpractice Insurance, Workers Compensation, Commercial Insurance, Home and Auto. Our success comes from a knowledgeable team of insurance agents that educate our clients on the best coverage that meet their needs and not over spend on insurance.
Listen to this informative Taking Control of Your Financial Life episode with Joseph Santiago about focusing on client's needs.
Here is what to expect on this week's show:
APS offers strategic partnership for their clients and can handle the whole insurance spectrum.
Focusing on customer service helps you cater to client's needs.
The need for making educated decisions, and not just financial, when dealing with insurance.
Connect with Julian:
Facebook: https://www.facebook.com/americanassetmgmt/
LinkedIn: https://www.linkedin.com/in/julian-rubinstein-125b6312