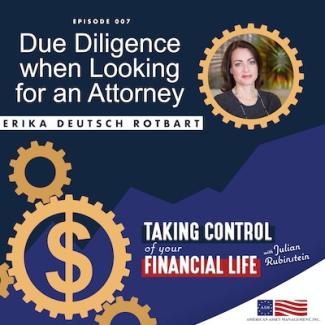 Ep 007: Due Diligence when Looking for an Attorney
Erika Deutsch Rotbart is an employment and labor lawyer and a Principal in the law firm of Deutsch Rotbart & Associates. Erika specializes in plantiff's employment, civil rights, and discrimination. For more than 28 years, Erika has spent her career litigating and paving the way for employees in both federal and state courts in Florida.
Listen to this informative Taking Control of Your Financial Life episode with Erika Deutsch Rotbart about choosing and attorney and payouts.
Here is what to expect on this week's show:
When choosing and attorney, employment or other, be sure to do your research; know their specialty, education, expertise, and get a good consultation.
The differences between taxable and non-taxable payouts.
Understanding a non-compete contract.
Connect with Erika:
Links Mentioned:
Website:  www.dralawfirm.com
LinkedIn: https://www.linkedin.com/in/erika-deutsch-rotbart-09058969/
Connect with Julian:
Facebook: https://www.facebook.com/americanassetmgmt/
LinkedIn: https://www.linkedin.com/in/julian-rubinstein-125b6312