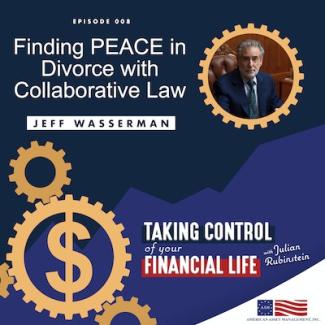 Ep 008: Finding PEACE in Divorce with Collaborative Law
Jeff Wasserman began practicing law 50 years ago and is proud to be an Accredited Collaborative Professional with the Florida Academy of Collaborative Professionals (FACP). He is currently Of Counsel to Shapiro, Blasi, Wasserman & Hermann, P.A. practicing collaborative law with the firm's Family Law Group. Mr. Wasserman is a peacemaker, keeping his family law clients out of court in resolving their divorces.
Jeff is also a veteran of the Vietnam War, honorably discharged in 1970. He is a pro bono volunteer for the Veteran's Project in Broward County.
Listen to this informative Taking Control of Your Financial Life episode with Jeff Wasserman about collaborative divorce.
Here is what to expect on this week's show:
Jeff talks about the collaborative law process.
Focusing on PEACE during a divorce: Parenting, Equitable distribution, Alimony, Children's issues, Everything else
During a divorce, the focus should be on what is most beneficial for the children; there should be no harm for the children.
Connect with Jeff:
Facebook: https://www.facebook.com/jpwasserman/
LinkedIn: https://www.linkedin.com/in/jeffrey-wasserman-collaborative-family-lawyer-a6a9b8161/
Website: https://sbwh.law
Connect with Julian:
Facebook: https://www.facebook.com/americanassetmgmt/
LinkedIn: https://www.linkedin.com/in/julian-rubinstein-125b6312