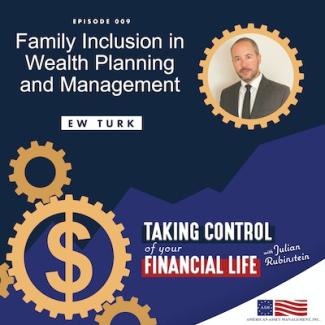 Ep 009: Family Inclusion in Wealth Planning and Management
Evan serves as the point man to his client's wealth. He advises successful entrepreneurs, family offices, and affluent families on ways to reduce their tax liability while protecting and growing their wealth.
Listen to this informative Taking Control of Your Financial Life episode with Evan W. Turk about family wealth management.
Here is what to expect on this week's show:
Evan discusses the most valuable piece of information when dealing with clients is understanding the family structure and dynamic.
Not having a pre-nuptial agreement is a mistake. When done properly, pre-nups protect both parties.
The best strategy is one the client understands; mistakes are most common during the implementation of a plan/strategy.
Connect with Evan:
https://www.theamericanreporter.com/an-interview-with-evan-turk/
Connect with Julian:
Facebook: https://www.facebook.com/americanassetmgmt/
LinkedIn: https://www.linkedin.com/in/julian-rubinstein-125b6312