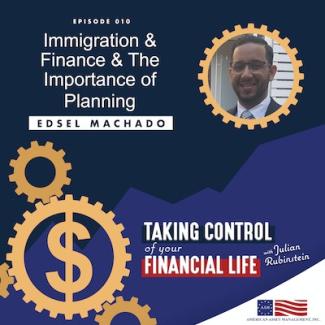 Ep 010: Immigration and Finance and The Importance of Planning
Edsel graduated from the University of Puerto Rico, Rio Piedras Campus, with a bachelor's in Sociology in 2009. Afterwards, attended the Inter American University Law School also in Puerto Rico. After moving to Florida, Edsel started working Immigration Law. Within that he has experience in Defense Removal, Asylum, Business, Employment and Investors visas.
Listen to this informative Taking Control of Your Financial Life episode with Edsel Machado about immigration law.
Here is what to expect on this week's show:
Edsel expresses how important it is to understand and manage client expectations with immigration.
Edsel explains the investment visa and how it can be the first step in immigration.
When dealing with immigration, one cannot compare their case to anyone else's as each is different.
Connect with Edsel:
Instagram: https://www.instagram.com/usaimmigrationconsultants/
LinkedIn: https://www.linkedin.com/in/edsel-machado-guerrero-esq-b008b07b/
Connect with Julian:
Facebook: https://www.facebook.com/americanassetmgmt/
LinkedIn: https://www.linkedin.com/in/julian-rubinstein-125b6312