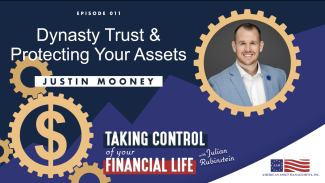 Ep 011: Dynasty Trust and Protecting Your Assets
An Atlanta native, Justin Mooney graduated from Emory University with a B.A. in Linguistics and a Minor in German Language. At the University of Florida Levin College of Law, Justin focused his studies on federal tax and estate planning. After receiving his J.D. and LL.M. in Taxation, Justin moved to the D.C. area to practice tax controversy where he helped clients lower their tax burdens and navigate the complexities of tax audits.
Listen to this informative Taking Control of Your Financial Life episode with Justin Mooney about dynasty trust and protecting your assets.
Here is what to expect on this week's show:
Justin explains what a dynasty trust is and how it can protect assets for your children.
Justin tells Julian how important it is to name the right PERSON (not people) as a health care surrogate or power of attorney; will your spouse be emotionally available to make the correct decisions? When multiple people are involved, it gets difficult to get things done.
Justin discusses how to protect your assets within all different aspects: married, single, children; and when to have your assets in an LLC.