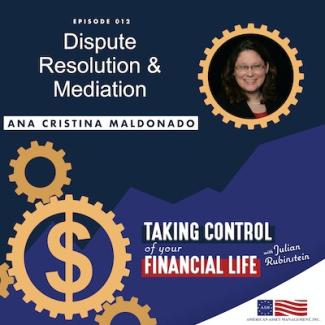 Ep 012: Dispute Resolution & Mediation
Ana Cristina Maldonado is a mediator and arbitrator with Upchurch Watson White and Max and well as a mediation trainer with the Florida Mediation Training Center. Cristina attended St. Thomas University for law school, has a Master's in Conflict Resolution from George Mason University, and received her bachelor's from Amherst College. The product of an Army Brat mother and a Cuban father, she was born in Venezuela and grew up in Puerto Rico, Brazil, Miami, and Chile. Before becoming an attorney, she worked as a program manager on labor law and workplace safety projects throughout Central America. Cristina brings her professional and life experience to her love of dispute resolution in family and commercial cases. 
Listen to this informative Taking Control of Your Financial Life episode with Ana Cristina Moldonado about mediation.
Here is what to expect on this week's show:
Ana Cristina explains that she's always been drawn to mediation and started as a peer counselor in 6th Grade.
In mediation, both parties need to agree on 'what they want', or they run the risk of neither parties getting what they want.
Ana Cristina and Julian discuss the effects of COVID on new employees entering the work force.
Ana Cristina talks preparedness, and how a lack of preparation and indecisiveness can look like negative intentions.
Connect with Ana Cristina:
https://www.uww-adr.com/Ana-Cristina-Maldonado
https://www.uww-adr.com/Meet-Our-Mediators--Ana-Cristina-Maldonado-1-10370.html
https://www.linkedin.com/in/ana-cristina-maldonado/
Connect with Julian:
Facebook: https://www.facebook.com/americanassetmgmt/
LinkedIn: https://www.linkedin.com/in/julian-rubinstein-125b6312