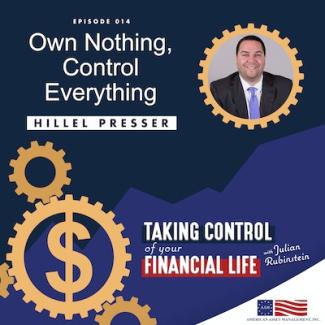 Ep 014: Own Nothing, but Control Everything
Hillel L. Presser represents individuals and businesses in connection with the establishment of comprehensive asset protection plans that incorporate both domestic and international components. Hillel Presser fulfills his mission to educate all generations on the legal strategies available to protect their prosperity by engaging in hundreds of presentations throughout the country.
Listen to this informative Taking Control of Your Financial Life episode with Hillel Presser about protective entities.
Here is what to expect on this week's show:
Hillel explains how business and law are the perfect combination for asset protection.
When you 'own' something, it's yours to lose; own nothing but control everything by transferring assets into 'protective entities.'
Hillel discusses the differentiation between having something in your name or your business name and using a protective entity and how that can affect you in a lawsuit.
The goal in asset protection is to make it difficult for someone to collect against you, so they will not want to sue you; make yourself 'uncollectable.'
Connect with Hillel:
https://www.assetprotectionattorneys.com
Twitter:  @presserlawfirm
Instagram: @presserlawfirm
Facebook: @presserlawfirm
LinkedIn: @presserlawfirm
Connect with Julian:
Facebook: https://www.facebook.com/americanassetmgmt/
LinkedIn: https://www.linkedin.com/in/julian-rubinstein-125b6312