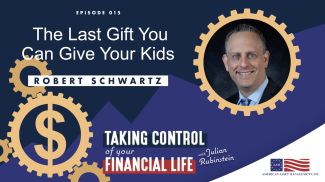 Ep 015: The Last Gift You Can Give Your Kids
Robert Schwartz is both an Attorney and a Certified Public Accountant. He practices in the areas of estate planning and administration, as well as in real estate. By combining his legal and financial knowledge, Mr. Schwartz is able to provide a high quality of service to his clients, and is well suited in matching his clients' overall goals and objectives with the appropriate planning techniques.
Listen to this informative Taking Control of Your Financial Life episode with Robert Schwartz about estate planning.
Here is what to expect on this week's show:
Robert explains that a trust is the last gift you can give your children.
Robert and Julian discuss setting up trusts, the importance of beneficiaries, and how to best protect your assets.
Robert also talks about how he provides people with peace of mind.
If you want to make things easier for your children, Robert can help!