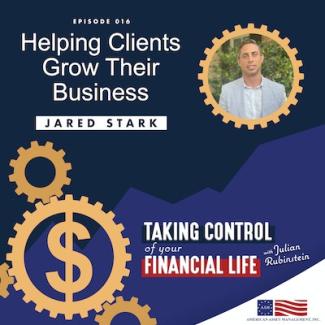 Ep 016: Helping Clients Grow Their Business
Jared is an experienced corporate attorney and graduate of Georgetown Law. He formed Stark & Company to help entrepreneurs and growing businesses get instant access to well drafted legal documents. Jared lives in Delray Beach, Florida with his wife, two kids, and two very crazy dogs. 
Listen to this informative Taking Control of Your Financial Life episode with Jared Stark.
Here is what to expect on this week's show:
Jared tells Julian about his latest project, which provides people with legal forms and document templates created by his team.
Jared explains how his 'flat fee' basis is good for budgeting, especially for start- ups and small businesses.
Jared defines success as a healthy work/life balance and creating memories with your kids.
Connect with Jared:
LinkedIn: https://www.linkedin.com/in/jaredastark/
Website:  StarkCoLegal.com
Connect with Julian:
Facebook: https://www.facebook.com/americanassetmgmt/
LinkedIn: https://www.linkedin.com/in/julian-rubinstein-125b6312