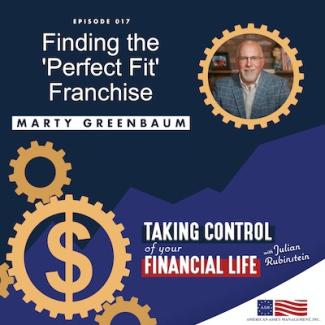 Ep 017: Finding the 'Perfect Fit' Franchise
Marty Greenbaum, CFE is a 30+ year franchise industry professional, Certified Franchise Executive (CFE) and founder of Smart Franchise Investing. Marty was fortunate to grow up in an entrepreneurial family. The foundation of Marty's business experience comes from his personal involvement in opening 500 stores, serving as Director of Operations and ultimately as Vice President of Marketing.
Listen to this informative Taking Control of Your Financial Life episode with Marty Greenbaum about franchising.
Here is what to expect on this week's show:
Marty explains what drives people to franchising, and how they draw from their own experiences.
Marty discusses how he determines what is the best franchise fit for his clients.
Marty tells Julian that 80% of business owner fail in the first five years, while franchising has a success rate 3 times higher.
Connect with Marty:
Website: www.smartfranchiseinvesting.com
LinkedIn: www.linkedin.com/in/greenbaum
Connect with Julian:
Facebook: https://www.facebook.com/americanassetmgmt/
LinkedIn: https://www.linkedin.com/in/julian-rubinstein-125b6312