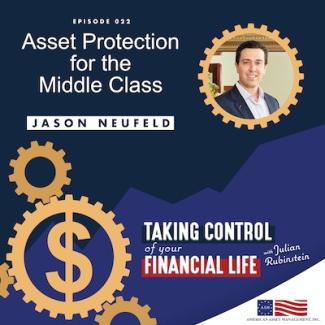 Ep 021: Asset Protection for the Middle Class
– Taking Control of Your Financial Life with Julian Rubinstein Episode with Jason Neufeld
Jason Neufeld is the Managing Partner of Elder Needs Law, PLLC. Jason both teaches other elder law attorneys about Medicaid Planning as well as regularly presents in front of community organizations (live or virtually).
Listen to this informative Taking Control of Your Financial Life episode with Jason Neufeld about Medicaid planning.
Here is what to expect on this week's show:
Jason explains what an 'irrevocable trust' is and why you may need one.
Jason tells Julian the importance of planning NOW to avoid needing Medicaid.
Jason discusses long term care insurance.
Connect with Jason Neufeld:
Website: www.elderneedslaw.com
YouTube: https://www.youtube.com/@elderneedslaw
Connect with Julian:
Facebook: https://www.facebook.com/americanassetmgmt/
LinkedIn: https://www.linkedin.com/in/julian-rubinstein-125b6312