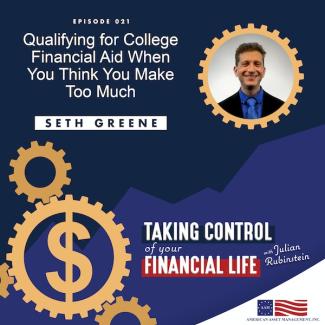 Ep 021 'Qualifying for College Financial Aid When You Think You Make Too Much' with Seth Greene
Seth Greene is the founder of how to find money for college.com, a nationally recognized college financial aid firm that cuts tuition costs an average of $19,077 per year per child.
Listen to this informative Taking Control of Your Financial Life episode with Seth Greene about college and financial aid.
Here is what to expect on this week's show:
Seth tells Julian how he created a job/degree based on his financial struggles with college.

Seth discusses when parents should start speaking to a college admissions finance specialist.

Seth explains about changing laws and how people can fall into scholarship scams.