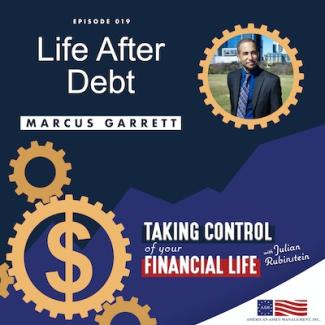 Episode 019 'Life After Debt' with Marcus Garrett
After surviving the mean streets of the inner suburbs in the Great State of Texas, Marcus Garrett obtained a Bachelor of Arts in Business Administration and work experience as a Certified Internal Auditor, Financial and Data Analyst. As a Senior Millennial, his inflated self-esteem was amplified with participation trophies given to him without merit during his most impressionable years. Somehow he overcame these personal roadblocks to become an award-winning freelance writer on topics ranging from love and relationships to debt and personal finances.
Listen to this inspirational Taking Control of Your Financial Life episode with Marcus Garrett about life after debt.
Here is what to expect on this week's show:
Marcus explains his 4 part system for overcoming debt:
D – Define the problem
E – Establish a plan
B – Build a budget
T – Trust the process

Marcus discusses how participation trophies are building a generation of just 'showing up'

Marcus and Julian talk about the fact that investing and finances are not part of a high school curriculum and how important it is to learn about investing at a young age.